U.S. Senate Applicant
Dianne Feinstein
Currently: U.S. Senator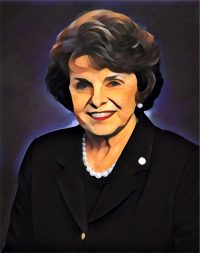 Emerging onto the national scene as a tough on crime, but fiercely pro-choice and pro-gun control, Sen. Feinstein has served in the U.S. Senate since 1993. Over the decades she has developed a reputation as an ideologically unpredictable consensus-builder and a pragmatist—someone willing to cut deals and occasionally vote against her party, particularly on national security issues. If re-elected, she would likely become California's longest serving senator.
The daughter of a renowned surgeon at UC San Francisco, she got her start in politics as a on the state women's parole board before becoming a San Francisco supervisor and then the city's first woman mayor. Her politics are informed by her biography: When San Francisco Supervisor Harvey Milk and Mayor George Moscone were shot and killed at City Hall in 1978, it was Feinstein who found them and announced the news to the world.
EXPERIENCE
United States Senator 1993-Present
Wrote the Federal Assault Weapons Ban, a nationwide prohibition on most semi-automatic, high capacity guns that expired in 2004. In response to the Parkland school shooting this year, Feinstein has introduced a new ban—as she did after the shooting at Newtown.
Served as the ranking Democrat in the Senate Intelligence Committee where she has been a defender government surveillance programs, but also led an investigation into the CIA's use of torture between 2001 and 2006.
One of California's first women to serve as senator, along with Barbara Boxer, who was elected the same year.
Mayor of San Francisco 1978-1988
Proposed a city-wide ban on handguns (later struck down in the courts)
Provided funding to research the spread of HIV/AIDS in San Francisco, one of the first instances of public health funding for the epidemic.

ADDITIONAL EXPERIENCE
San Francisco Board of Supervisors member
Candidate for Governor of California, 1990 (Unsuccessful)
HONORS AND AWARDS
Eighth most senior member of the U.S. Senate—a status that allows her to pick her committee assignments and gives her more power within the committees on which she serves
LETTERS OF RECOMMENDATION
Governor Jerry Brown
Senator Kamala Harris
United Farmworkers
Former President Barack Obama
Congresswoman Nancy Pelosi
Equality California
CONTACT INFORMATION:   www.feinsteinforca.com * @SenFeinstein
The Resume of Dianne Feinstein
"Compromise, ladies and gentlemen, isn't a dirty word."
Dianne Feinstein