U.S. Senate Applicant
Kevin de León
Currently: California State Senator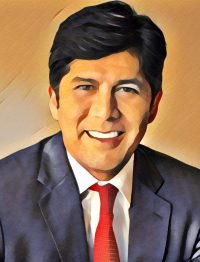 De León wants to represent the new face of California: multiracial, the child of immigrants, and offering an uncompromising brand of progressive politics. His views on immigration, healthcare, and the environment are ambitious and absolute. In the age of Donald Trump, de León is the candidate who champions resistance.
He grew up in San Diego, raised by a single mother—an undocumented immigrant from Guatemala who cleaned homes for a living. He is the first in his family to graduate from high school or college. Before joining the California Assembly, de León's work history traces the ideological foundation of the modern Democratic Party in California: He taught English to immigrants; campaigned against Proposition 187, which would have denied public services to undocumented immigrants; and worked as a union organizer for the teachers' union.
INTERESTS
Protecting the rights of undocumented immigrants
Environmental protection
Single-payer healthcare
Not cooperating with the Trump administration even a little bit

PROFESSIONAL EXPERIENCE
California State Senator  2010-Present
Served as president pro tempore, the ranking member of the state Senate, where he introduced California's "sanctuary state" bill, which places tight restrictions on how state and local law enforcement officers can cooperate with federal immigration enforcement.
Wrote the law requiring California to get all of its electricity from renewable sources by 2045
Co-chaired the campaign for Proposition 39 in 2012, which raised corporate income taxes on businesses that conduct business in California but which are located outside of the state.
ADDITIONAL WORK EXPERIENCE
Member, California Assembly
Organizer, California Teachers Association
English as a Second Language Teacher, One-Stop Immigration and Education Center
LETTERS OF RECOMMENDATION
California Nurses Association
SEIU California
U.S Rep. Ro Khanna
State Sen. Toni Atkins
Tom Steyer
CONTACT INFORMATION:  www.kevindeleon.com  @kdeleon
The Resume of Kevin de León
"The days of Democrats biding our time, biting our tongue, and triangulating at the margins are over."
Kevin de León